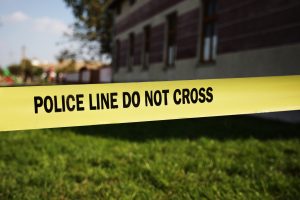 Apartment owners have a responsibility to protect their residents from violent crime, sexual assault, and foreseeable harm. Unfortunately, owners all too often fail to implement and/or maintain critical security measures, leaving residents and their guests vulnerable. Further, in an effort to attract new tenants, unethical landlords will fail to warn prospective tenants of a criminal history on the grounds and even within their prospective unit.
My First Apartment warns:
"While most prospective tenants focus on size, price, location and charm when looking for an apartment, it's easy to miss checking out another important factor: its criminal record. Believe it or not, an apartment with a background of crime is more common than you think, and can have a huge impact on future tenants….Tenants who have moved into apartments where prostitution or drug dealing took place may face both unsettling and dangerous futures in their new home. With unsavory strangers loitering around their apartment and knocking on their door looking for the previous tenant, feelings of privacy and safety can be compromised."
Before You Move In
Research Crime on and Near Property: Speak with local police and potential neighbors to get an accurate idea of crime on property and in the surrounding area. Run the apartment address in search engines and crime mapping websites prior to move.
Observe Lighting and General Maintenance: Is there working lighting in all parking areas, elevators, stairwells, hallways, mail and laundry rooms? Does the overall property upkeep show a lack of concern by property management? Do you see any broken fencing or gates?
Check Access Controls: Do residents control entry to the property, buildings and common areas through a key, fob, or passcode? Does the property have working entry gates and, if so, do the gates allow outsiders to follow resident vehicles onto property? Do units have deadbolts on doors, locks on windows, and security bars on sliders? Are any fire escapes stored above ground, preventing intruders from reaching apartment? Will landlord replace all locks between tenants prior to move?
Victims of Apartment Violence: Know Your Rights
Apartment residents have a right to feel safe and secure in their homes and to protect their families and guests. By law, apartment owners are required to protect all residents and their guests from any foreseeable harm. Should an apartment complex owner fail in this critical responsibility, they may be held civilly liable for any sexual assaults, injuries or wrongful deaths which occur as a consequence.
Can I Afford an Attorney?
Our Clients frequently come in concerned that they won't be able to afford legal help. We believe everyone has a right to exceptional legal service. We represent our Clients on a contingency agreement, which generally means that no fees or payments are owed until and unless we recover. This means our interests are always tied to that of our Clients. Be sure to ask any potential personal injury attorney about their fee schedule and whether they represent Clientele on a contingency basis before signing a contract.
You Deserve Justice. We Can Help.
The Murray Law Firm has an extensive and successful record representing victims and families of negligent apartment security. We have recovered millions of dollars for our Clients, and we offer our legal assistance, if desired. Anyone seeking further information or legal representation is encouraged to contact us via e-mail (click here) or by telephone at 888.842.1616. Consultations are free and confidential.
Choosing the Right Attorney
Selecting the right attorney for you or your family is highly important. You must feel confident that the attorney you hire has a complete understanding of the law applicable to your particular case, and has successful experience in handling such cases.
Important: Do not hire a lawyer who has violated the Rules of Professional Conduct!!!
You should not hire an attorney who calls you or visits you unsolicited, or anyone that contacts you directly to offer legal services. This activity is strictly prohibited by Rule 7.3 of the American Bar Association (ABA) Model Rules of Professional Conduct, which states as follows:

A LAWYER "SHALL NOT" CONTACT A PROSPECTIVE CLIENT THROUGH A "LIVE TELEPHONE" OR AN "IN-PERSON" VISIT.
– RULE 7.3, ABA MODEL RULES OF PROFESSIONAL CONDUCT.
If an attorney, or someone acting on behalf of an attorney, contacts you in this manner, that attorney is in violation of this Rule. This unethical and unprofessional activity on the part of the lawyer is good sign that you should stay away. It is imperative that you are represented by an attorney who is capable of advocating for you within the confines of the law, and an attorney who fails to abide by the Rules of Professional Conduct is probably not the best fit. In fact, any such attorney should be immediately reported to the local State Bar Association. If you have been contacted in such an unsolicited manner, contact us and we'll assist you in filing a report.
Contingency Fees Disclaimer: "Contingent attorneys' fees refers only to those fees charged by attorneys for their legal services. Such fees are not permitted in all types of cases. Court costs and other additional expenses of legal action usually must be paid by the client."