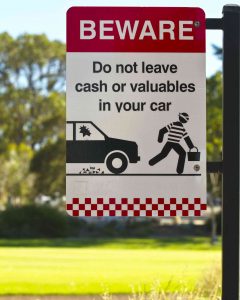 Gas stations are often targets for criminal activity due to (frequently) late hours of operation, accessibility to major roadways, and vulnerable patrons.
OSHA warns, late-night retail businesses, such as gas stations and convenience stores, "are prone to robberies." As such, gas station owners are urged to "reduce their risk by improving visibility and surveillance, controlling customers' access, and limiting the availability of cash."
Such measures could include:

Limiting window signs to low or high locations and keeping shelving low so that workers can see incoming customers and so that police can observe what is occurring from the outside of the store;
Ensuring the customer service and cash register areas are visible from outside the establishment;
Placing curved mirrors at hallway intersections or concealed areas;
Maintaining adequate lighting inside and outside the establishment;
Installing video surveillance equipment and closed circuit TV to increase the likelihood of identification of perpetrators;
Using door detectors so that workers are alerted when someone enters the store;
Having height markers on exit doors to help witnesses provide more accurate descriptions of assailants;
Installing and regularly maintaining alarm systems and other security devices, panic buttons, handheld alarms or noise devices, cellular phones and private channel radios where risk is apparent or may be anticipated;
Arranging for a reliable response system when an alarm is triggered;
Installing fences and other structures to direct the flow of customer traffic into and around the store;
Controlling access to the store with door entry (buzzer) systems;
Installing physical barriers such as bullet-resistant enclosures with pass-through windows between customers and workers; and
Using drop safes to limit the availability of cash to cashiers and posting signs which state that cashiers have limited access to cash. 
Victims of Gas Station Violence: Know Your Rights
Gas station patrons have a right to feel safe and secure while on the premises of the establishment they are visiting. By law, Georgia property owners are required to protect all patrons legally on the premises from any foreseeable harm. For example, should a gas station owner have knowledge of prior violence on or near property, they have a responsibility to implement additional security precautions to protect patrons and deter such crime. Additional security measures may include bright lighting, a security guard or off-duty police officer, surveillance cameras, and bulletproof pass-through windows for cash transactions. Should a gas station owner or manager fail in this critical responsibility, they may be held civilly liable for any injuries or wrongful deaths which occur as a consequence.
Can I Afford an Attorney?
Our Clients frequently come in concerned that they won't be able to afford legal help. We believe everyone has a right to exceptional legal service. We represent our Clients on a contingency agreement, which generally means that no fees or payments are owed until and unless we recover. This means our interests are always tied to that of our Clients. Be sure to ask any potential personal injury attorney about their fee schedule and whether they represent Clientele on a contingency basis before signing a contract.
You Deserve Justice. We Can Help.
The Murray Law Firm has an extensive and successful record representing victims and families of negligent gas station security. We have recovered millions of dollars for our Clients, and we offer our legal assistance, if desired. Anyone seeking further information or legal representation is encouraged to contact us via e-mail (click here) or by telephone at 888.842.1616. Consultations are free and confidential.
Choosing the Right Attorney
Selecting the right attorney for you or your family is highly important. You must feel confident that the attorney you hire has a complete understanding of the law applicable to your particular case, and has successful experience in handling such cases.
Important: Do not hire a lawyer who has violated the Rules of Professional Conduct!!!
You should not hire an attorney who calls you or visits you unsolicited, or anyone that contacts you directly to offer legal services. This activity is strictly prohibited by Rule 7.3 of the American Bar Association (ABA) Model Rules of Professional Conduct, which states as follows:

A LAWYER "SHALL NOT" CONTACT A PROSPECTIVE CLIENT THROUGH A "LIVE TELEPHONE" OR AN "IN-PERSON" VISIT.
– RULE 7.3, ABA MODEL RULES OF PROFESSIONAL CONDUCT.
If an attorney, or someone acting on behalf of an attorney, contacts you in this manner, that attorney is in violation of this Rule. This unethical and unprofessional activity on the part of the lawyer is good sign that you should stay away. It is imperative that you are represented by an attorney who is capable of advocating for you within the confines of the law, and an attorney who fails to abide by the Rules of Professional Conduct is probably not the best fit. In fact, any such attorney should be immediately reported to the local State Bar Association. If you have been contacted in such an unsolicited manner, contact us and we'll assist you in filing a report.
Contingency Fees Disclaimer: "Contingent attorneys' fees refers only to those fees charged by attorneys for their legal services. Such fees are not permitted in all types of cases. Court costs and other additional expenses of legal action usually must be paid by the client."
SaveSave