Apartment owners have a responsibility to protect their residents from violent crime, sexual assault, and foreseeable harm. Unfortunately, owners all too often fail to implement and/or maintain critical security measures, leaving residents and their guests vulnerable.
Proactive, Active and Reactive Security
Apartment owners and property managers should employ a variety of security measures to both deter and respond to injuries, violent crimes and sexual assaults. Bravo Three, a private security company, recommends apartment owners invest in a mix of proactive, active and reactive security measures.
"Proactive security is any measure that is set in place that will deter criminal activity before it happens….The most important aspect in all of security is providing a visual deterrent." -Bravo Three
Are all parking areas, grounds, hallways, stairwells, and common areas well-lit?
Does landscaping minimize hiding places and provide strong sight-lines?
Is the perimeter secured with gated and/or guarded entry and fencing?
Are visible surveillance cameras positioned throughout property as a deterrent?
Are residences equipped with deadbolts, door viewers, window locks, and sliding door security bars?
Are pool areas secure after-hours with working locks and alarms?
"Active Security involves a person activity watching your property….Your options include a standing guard, a patrol guard, a monitored camera service, a neighborhood watchman, good Samaritans, onsite managers, etc. There are many different options you can choose from, and you can, and most likely should, choose more than one." -Bravo Three
Does security patrol all grounds and common areas at random intervals?
Are surveillance cameras working and monitored at all times?
What daily procedures are in place to check all security measures, such as lighting, fencing, locks, and gates, are working properly?
Do gates limit traffic to one vehicle entry?
What guest-screening procedure is in place for guards to document guests visiting the property?
"Even though you have active security in place, inevitably some type of crime will take place. In these cases it is important to have reactive security measures in place to help catch the criminals. Reactive security is one of two things, cameras or people. Obviously it is best to have a combination of the two….The best measure for reactive security is to have a person monitoring your property in person. Not only will the person be able to recall the incident, but will be able to call in the proper authorities in a timely manner." -Bravo Three
Are cameras covering all property entry points, parking lots, and common areas?
Do cameras provide adequate night vision and zoom technology to help police identify criminals?
What procedures and tools are in place to quickly alert law enforcement and emergency responders in the event of a serious injury, violent crime or sexual assault?
Is security staff trained to effectively preserve evidence and attend to victims of injuries, violent crimes and sexual assaults as they await emergency responders and law enforcement?
Victims of Apartment Violence: Know Your Rights
Apartment residents and guests have a right to feel safe and secure while on the premises of the establishment they are visiting. By law, property owners are required to protect all patrons legally on the premises from any foreseeable harm. Should an apartment complex owner fail in this critical responsibility, they may be held civilly liable for any injuries or wrongful deaths which occur as a consequence.
Can I Afford an Attorney?
Our Clients frequently come in concerned that they won't be able to afford legal help. We believe everyone has a right to exceptional legal service. We represent our Clients on a contingency agreement, which generally means that no fees or payments are owed until and unless we recover. This means our interests are always tied to that of our Clients. Be sure to ask any potential personal injury attorney about their fee schedule and whether they represent Clientele on a contingency basis before signing a contract.
We've Recovered Millions for Victims of  Apartment Safety and Security Negligence…Contact us Now for a Free Consultation.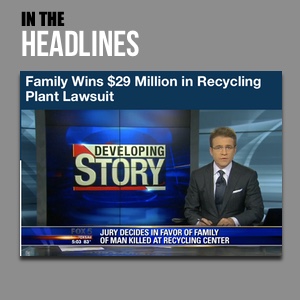 The Murray Law Firm has an extensive and successful record representing victims of violence and apartment security negligence. We have recovered millions of dollars for our Clients, and we recently obtained a $29.25 million dollar verdict for a victim of an unsafe property. We offer our legal assistance, if desired.
We represent our Clients on a contingency agreement, which generally means that no fees or payments are owed until and unless we recover.  Anyone seeking further information or legal representation is encouraged to contact us via e-mail (click here) or by telephone at 888.842.1616. Consultations are free and confidential.

---
Choosing the Right Attorney
Selecting the right attorney for you or your family is highly important. You must feel confident that the attorney you hire has a complete understanding of the law applicable to your particular case, and has successful experience in handling such cases.
Important: Do not hire a lawyer who has violated the Rules of Professional Conduct!!!
You should not hire an attorney who calls you or visits you unsolicited, or anyone that contacts you directly to offer legal services. This activity is strictly prohibited by Rule 7.3 of the American Bar Association (ABA) Model Rules of Professional Conduct, which states as follows:

A LAWYER "SHALL NOT" CONTACT A PROSPECTIVE CLIENT THROUGH A "LIVE TELEPHONE" OR AN "IN-PERSON" VISIT.
– RULE 7.3, ABA MODEL RULES OF PROFESSIONAL CONDUCT.
If an attorney, or someone acting on behalf of an attorney, contacts you in this manner, that attorney is in violation of this Rule. This unethical and unprofessional activity on the part of the lawyer is good sign that you should stay away. It is imperative that you are represented by an attorney who is capable of advocating for you within the confines of the law, and an attorney who fails to abide by the Rules of Professional Conduct is probably not the best fit. In fact, any such attorney should be immediately reported to the local State Bar Association. If you have been contacted in such an unsolicited manner, contact us and we'll assist you in filing a report.
Contingency Fees Disclaimer: "Contingent attorneys' fees refers only to those fees charged by attorneys for their legal services. Such fees are not permitted in all types of cases. Court costs and other additional expenses of legal action usually must be paid by the client."