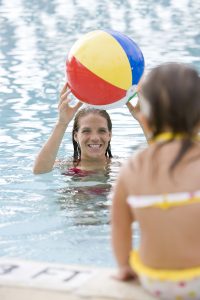 Summer is fast approaching and with it families and friends will flock to community pools. Apartment owners and managers should take this time to ensure property swimming pools and spas are both clean and safe.
The U.S. Consumer Product Safety Commission (CPSC) reports that each year 383 children younger than age 15 drown in pools and spas, and that there are more than 5,000 emergency room visits by kids each year with submersion injuries.

Because apartment community pools are often unsupervised, property owners should not only promote safety and awareness to residents but also practice it. Owners and operators should follow local, state, and federal regulations to ensure the safety of their facilities and to minimize drowning and injuries that can otherwise turn a pool party into a tragic event.
Industry experts with Property Management Insider urge apartment complex owners and managers to create a safe pool and spa environment for residents by following the below safety tips:
Have the Appropriate Equipment

Fences or barriers – a physical obstacle that surrounds an outdoor pool or spa so that access to the water is limited to adults – should be installed and checked for reliability. A successful pool barrier prevents a child from getting over, under or through it to gain access to the pool or spa.
The pool or spa should be checked to ensure compliance with federal and local laws and regulations.
Safety drain covers compliant with the Virginia Graeme Baker Pool & Spa Safety Act should be in place.
Pool and spa pumps should be checked to ensure proper operation.
Life-saving equipment such as life rings and reaching poles should be easily accessible.

Ask Yourself

Are there water safety rules posted in a visible area for adults and children to review?
If your property has no lifeguard, does your staff periodically monitor the pool or spa when it's in heavy use or during special events?
Do you recommend to residents who use the pool to bring their cell phone in case of emergency?

Train Your Staff in Water Safety

Property staff members should be trained and certified in first aid and emergency response.
Staff members should know how to perform CPR on children and adults. Training should be regularly updated.
Understanding the basics of life-saving – for any staff member on site – can mean the difference between life and death during a pool emergency.
Read more swimming pool safety tips at Property Management Insider.
Apartment Resident Rights
Apartment residents and guests have a right to be safe and secure while on the premises. By law, apartment owners and management companies have a duty to protect residents from any foreseeable harm. Should a property owner fail in this duty, they may be held civilly liable for any injuries or deaths which occur as a consequence.