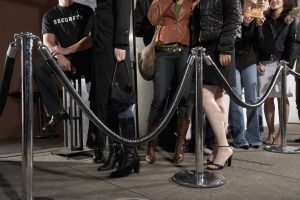 Defying a culture that has all too often silenced victims of sexual harassment, the #MeToo movement has ushered in a heightened social awareness of sexual misconduct in the workplace and beyond. Predators once protected by corporate profit margins and a social taboo of openly discussing harassment, sexual assault, and rape, are finally being held accountable and a fresh intolerance for such behavior is trickling into other social corners.
A January 2018 Noisey investigation explores How Nightclubs Are Taking a Stand Against Sexual Harassment amid the #MeToo movement:
Noisey interviewed a broad range of partygoers and nightlife professionals in New York City, and their words paint a troubling picture: that of one of the city's best-known industries is struggling to adequately confront harmful behavior in the spaces where people go to enjoy themselves….

Several industry sources noted that clubs generally have internal policies around how to control customers' behavior and deal with violent incidents—for example, when to stop serving someone alcohol, or when to call the police and how to deal with them when they arrive. Nevertheless, it's rare for venues to have detailed policies for dealing with harassment specifically, and still less common for them to make those policies public. This lack of explicit protocol is surprising given how vulnerable nightlife venues can be to this kind of behavior….

There are signs of change, however. As Noisey's reporting revealed, some New York clubs are beginning to tackle harassment more transparently, engaging actively with their customers and formulating explicit policies on how to stamp out such behavior.
Can Victims of Nightclub Sexual Assault Seek Justice and Compensation? 
Bar and nightclub patrons have a right to feel safe and secure while on the premises of the establishment they are visiting. By law, property owners are required to protect all patrons legally on the premises from any foreseeable harm. Should a nightclub owner fail in this critical responsibility, they may be held civilly liable for any injuries or wrongful deaths which occur as a consequence.
Can I Afford an Attorney?
Our Clients frequently come in concerned that they won't be able to afford legal help. We believe everyone has a right to exceptional legal service. We represent our Clients on a contingency agreement, which generally means that no fees or payments are owed until and unless we recover. This means our interests are always tied to that of our Clients. Be sure to ask any potential personal injury attorney about their fee schedule and whether they represent Clientele on a contingency basis before signing a contract.